Welcome!
to page Studio apartment Anita
If you are looking for a nice and comfortable accommodation in the centre of Zagreb, you came to the right place.

Although it is located only 10 minutes walk from the main city square, Studio Apartman Anita is located in exceptionally quiet and green Tuskanova street, across the Bartol Kasic Park.

Studio Apartman Anita is ideally located, in green, peaceful oasis in the city centre, with numerous amenities. There are many shops and restaurants nearby, as well as banks with ATM, market, post office, movie theatre, several hospitals and Kvaternik square, which is a transportation hub with connections to any part of the city.

Studio Apartman Anita is located on the first floor of an apartment building, it covers 22 m2, it is fully and functionally equipped with any devices needed for comfort for up to three guests. It consists of one room with a kitchenette, a bathroom and a balcony facing the back yard, ensuring quiet and privacy.

Studio Apartment Anita is the first toll parking zone, but only a few meters away there is a public garage with much more favorable price for parking.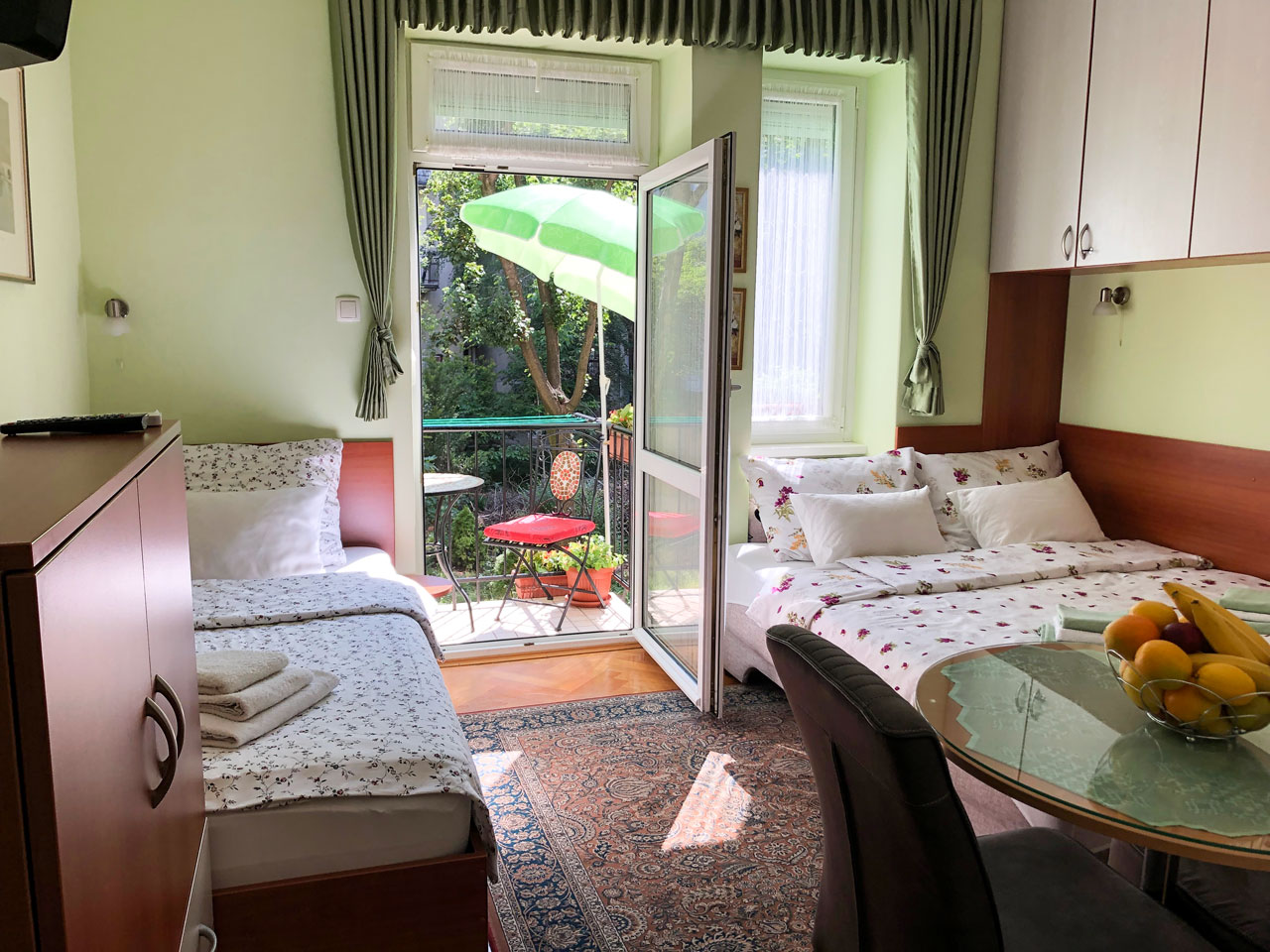 Apartment equipment
With a gallery of images of each individual part
ROOM
The room has one single bed and one pull-out double bed, wardrobes, chest drawers, wireless internet, cable, flat TV and a round dining table with chairs.
KITCHENETTE
In one corner of the room there is a kitchenette, which includes a stove, refrigerator, sink, hood, dishes and accessories.
BATHROOM
The bathroom has a shower cabin, sink, toilet and mirror, and appliances include a washing machine and a hair dryer.
BALCONY AND ENVIRONMENT
A balcony with a garden table and chairs that overlooks the courtyard of the building, along with the location itself (in front of the building is the Bartol Kašić Park) truly gives our Studio apartment the character of a green oasis in the very center of Zagreb.




Garden furniture on the balcony











Parking
Public garage with good prices nearby.


Long-term stay
The apartment can be rented for a longer period!
PRICES & CONTACT
Price list:
| | | |
| --- | --- | --- |
| Number of persons | Euro | Kuna |
| 1 person |  €40 | HRK 301.38 |
| 2 persons |  €50 | HRK 376.73 |
| 3 persons |  €60 | HRK 452.07 |
Fixed conversion rate 1 EUR = 7.53450 HRK.
Payment upon arrival.
There are no additional costs.
The sojourn tax is included in the price.
Check-In
- from 2:00 p.m. or by appointment.
Check-Out
- until 10:00 a.m. or by appointment.
Studio apartment Anita is located in Zagreb, Tuškanova 7a - Kvaternik square.


Distances
Tram station: 100 m

Shop / market: 100 m

Ban Jelačić Square (center): 15 minutes walk

Kaptol: 10 minutes walk

ZOO Maksimir: 1.5 km

DINAMO stadium: 1.5 km

Main railway station: 2 km

Main bus station: 1.5 km

Airport: 11 km

Exchange office: 50 m

PBZ bank: 200 m

RBA bank: 250 m

Zagreb bank: 300 m

Post office: 300 m

Hospital Svjetlost: 800 m

CHC Petrova: 800 m

CHC Merkur: 850 m

CHC Šalata: 1.5 km

CHC Rebro: 1.8 km